First listed on: 16 September 2021

Assistant Commissioner


Multiple roles in multiple sites
Make a real difference to the lives of Australians
Do work that is meaningful, diverse and challenging
Test yourself against the best minds in the field

About the roles
We are recruiting senior executives to fill leadership roles across a broad range of areas including law, IT, finance, design and marketing and communications and areas that work with clients to support the integrity of the tax and superannuation systems.
As an Assistant Commissioner in the ATO you'll lead a workforce to deliver exceptional service to the Australian community.
You'll develop strategic responses within various disciplines to meet the needs of different client segments and contribute to the design and delivery of contemporary and innovative solutions.
Duties may include
identifying strategic solutions for issues within the law, its interpretation and application
championing and delivering fair, impartial and timely resolution of disputes
shaping and influencing the design of the tax and superannuation systems across the dimensions of policy, law and administration.
delivering a range of activities to help taxpayers and their advisors comply with their tax and superannuation obligations
delivering contemporary technology solutions in a large and complex environment
leading the development and implementation of high priority, high risk and complex marketing and communication strategies
positioning the ATO to deliver high quality user centred designs and solutions
delivering trusted services and expert advice in relation to a range of financial resource management activities in a public sector environment
Skills and experience
Our senior leaders are expected to:
develop a clear vision of the future that links with the big picture of the organisation
be accountable and deliver outcomes that align with the long-term perspective
find innovative and practical solutions, be open to ideas and engage with risk
have an outward focus and work collaboratively across boundaries to influence better outcomes for the system and the community, and make progress on issues that cut across sectors, communities and agencies
have the capacity to persuade others towards an outcome, winning and maintaining the confidence of government and key stakeholders
be self-aware and courageous, creating an environment that empowers and motivates individuals and teams to deliver their best
be passionate about building trust and confidence in the ATO and the tax and superannuation systems.
Additional experience and qualifications are required for specific opportunities. Details are available in the candidate information kit.
The total remuneration package (including allowances and superannuation) will be in the range of $234,160 to $270,902 per annum, depending on experience.
Benefits
ability to do work that is meaningful, diverse and challenging
work with leaders in the field
flexibility to provide work/life balance
continuous investment in your professional development
For information about the roles and to apply visit ATO senior executive opportunities
For information about us visit ato.gov.au/careers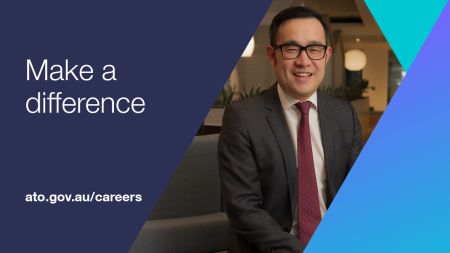 Closing Date:

30 Sep 2021
Location:

VIC
QLD
NSW
WA
ACT
SA
TAS
Salary:

Total remuneration package $234,160 to $270,902 per annum
Work Type:

Full Time
Category:

Banking & Finance
Corporate Services
Economist/Business/Finance
Innovation/Technology
Marketing/Media/Communications
Policy/Governance
Public Sector
Stakeholder Management/Engagement
APS Classification:

Senior Executive Service Band 1