Rumour mill goes wild ahead of Qantas' cuts confirmation
Print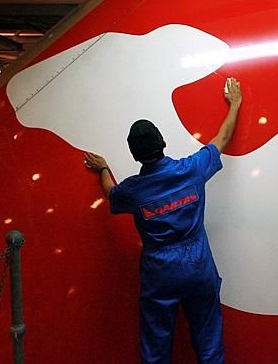 Qantas is being hounded by rumours that it will announce massive job cuts this week, but the airline says it will keep cuts down to a thousand workers at most.
Bad news took flight from the Qantas camp last week with the announcement of half-year losses totalling near $300 million, which forced the company to cut at least 1,000 jobs over the next 12 months.
Fairfax Radio ran reports over the weekend that Qantas actually planned to cut three times as many workers.
Qantas called the claims "unsubstantiated and unsourced rumours" in a subsequent statement about the cuts.
"The facts are that Qantas has flagged the need to make tough decisions as part of strengthening our business, which we will outline next Thursday," the airline said in a statement.
"In December, Qantas flagged job cuts of at least 1,000 over the next 12 months in the face of unprecedented pressures in both domestic and international markets.
"We have also announced plans to cut $2 billion of costs from our business over the next three years, and will provide more detail on this at our half-year results."
Rumours abound as to what shape the cuts in Thursday's announcement will take, as the airline continues to lobby the Federal Government for assistance.
The key change that Qantas wants from the government is to be allowed to accept investment from overseas interests, by having its current foreign ownership restrictions removed.
Qantas shares have risen with the job cut or assistance announcements that some expect to be made within days.