Qantas staff bid for jobs
Print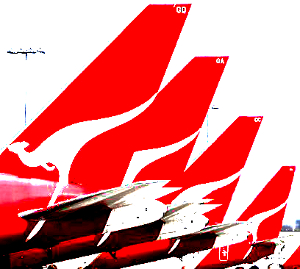 Qantas workers have warned safety could suffer if big outsourcing plans proceed.
Over 2,500 Qantas ground workers are fighting to keep their jobs after the airline revealed plans to outsource the work.
These cuts follow 6,000 already announced redundancies in June.
Workers and the unions claim Qantas passengers could be placed at risked if this work is outsourced.
The outsourcing plans cover staff across Australia, including at airports in Sydney, Melbourne, Brisbane, Perth, Adelaide, Darwin, Cairns, Townsville, Alice Springs and Canberra.
Any workers who want to keep their jobs now have to bid for them against labour hire firms.
Accounting firm EY has been working on bid on behalf of Qantas workers and the Transport Workers' Union (TWU).
Qantas has thanked its employees for the work they did in preparing a bid for their own jobs.
"COVID has meant airlines have to make fundamental changes to their operations, and whether this work remains in-house or is done by specialist ground handlers, it has to be more efficient in the future," a spokesperson said.
"We'll review the bid against the tenders we've received from external suppliers and will provide an update to employees once a decision has been made."
The company estimates that it would save about $100 million a year by outsourcing.
The TWU has claimed outsourced ground handlers are less capable of managing safety risks.
TWU national secretary Michael Kaine says safety and security standards could slip if jobs are outsourced.
"We only need to look at the appalling example of Swissport, the preferred bidder for the Qantas work, to see what could befall the airline," he told the ABC.
"[This includes] chronically fatigued and underpaid workers, safety and security breaches, deliberate understaffing and high injury rates.
"Considering the amount of public money which has been pumped into Qantas since the pandemic hit, the community has a right to expect better standards."
Qantas chairman Richard Goyder has told investors that this is not true.
Mr Goyder says analysis of safety reports in recent years have shown that external ground handlers working for the Qantas Group are no less safe.
The outsourced providers are assessed by Australian regulator CASA, and Qantas needs to show it has oversight of outsourced workers to maintain ongoing international accreditation through global body IATA.
He also said the airline conducts audits of all ground handlers on their safety performance.