Juukan Gorge 'gag' alleged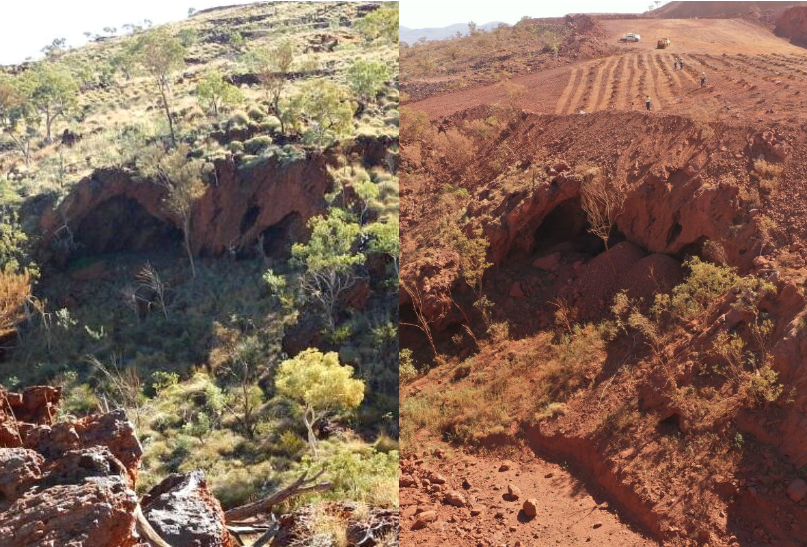 Traditional owners were reportedly 'gagged' from speaking about the destruction of the 46,000-year-old Juukan Gorge rock shelters.
Mining company Rio Tinto recently ruined the sacred site to give itself more access to iron ore.
In an inquiry reviewing that cultural destruction, Puutu Kunti Kurrama and Pinikura (PKKP) Aboriginal Corporation chief executive Carol Meredith said Rio pressured the group as it tried to stop the works.
"What we were reminded of by Rio's lawyers was that we were not able to engage seeking out an emergency declaration that perhaps would have stopped proceedings, because of our claim-wide participation agreement," she said.
"We were hamstrung and we were reminded that we were not to speak about this publicly, that we had the gag clauses and we needed to remain compliant.
"If we were to proceed to seeking an emergency declaration. we were required to seek permission from Rio before we took that option, and we had to give 30 days' notice and table every document we were going to use in that application.
"So for us in the time span available, it was not in fact an option."
The PKKP people were in danger of losing all the benefits that come with their land use agreement with Rio Tinto.
The PKKP people were asked if they would be able to speak to the media now that their sacred site has been destroyed.
Several PKKP members said; "No".
A Rio Tinto spokesperson said the company realises that what it did at Juukan Gorge was "wrong".
"We are determined to ensure that the destruction of a heritage site of such archaeological and cultural significance never occurs again at a Rio Tinto operation," he said.
The PKKP has established a moratorium with Rio Tinto preventing work in areas of high cultural sensitivity for the next six months.
But Andrew Forrest's Fortescue Metals Group recently applied for a mining licence in the same moratorium area.
FMG has issued a statement saying it is looking at an area 10 kilometres away from Juukan Gorge.
"As the Prospecting Licenses are reaching the end of their term, Fortescue submitted a Mining Lease application over this area which is consistent with normal practice," the company said in a statement.
"Fortescue has commenced discussions with the PKKP Aboriginal Corporation regarding conducting extensive heritage surveys of the area and confirms that there are no current plans to mine the area.
"We take our relationship with traditional custodians very seriously and we will continue to work with the PKKP to survey the area and understand areas of cultural significance."