Banks' self-reform going slow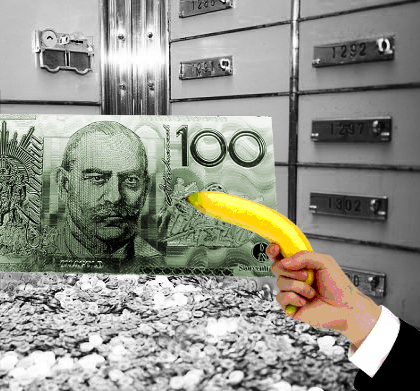 Ructions have emerged in the banks' attempt to reform themselves.
The Australian Bankers' Association (ABA) has set up reform initiatives and governance oversight in an attempt to eject 'bad apples' and restore consumer faith.
Bank governance expert Ian McPhee, a former federal auditor-general, was brought in by the ABA to monitor key reforms relating to sales commissions, rogue advisers, reporting of breaches and dispute resolution.
Mr McPhee's latest quarterly update notes that overall progress is being made, but there are significant slippages in some important areas.
"While we still need to see more rubber on the road, it is evident that there are early signs of the reforms starting to gain traction," Mr McPhee's report said.
The ABA is looking to improve bank culture through six primary initiatives:
Reviewing product sales commissions
Simplifying dispute resolution for customers
Supporting whistle-blowers
Removing 'bad apples'
Re-committing to the Code of Banking Practice
Supporting ASIC
After 15 months of reform efforts, customers are still not convinced that transparency has improved.
"To date, the industry has focused on putting in place the industry-level reporting framework and has not been explicit about its intentions around public reporting by individual banks," Mr McPhee said.
"It would be desirable for the industry to be clear on its position going forward, and even better if the major banks were to show the way in reporting their results."
One of the biggest issues is the heavy use of sales and incentive commissions, something the ABA wants to change by having banks commit to supporting remuneration principles that support "good customer outcomes".
But these efforts have fallen behind schedule in each of Mr McPhee's five quarterly reports.
"Given the significance of this issue and the profile which remuneration has for the industry, it is clearly desirable for the industry to settle its position in relation to this matter and reflect it as appropriate in the ABA's implementation plan," the latest report states.
"Should the industry decide not proceed with the guiding principles then a clear basis for the decision should be articulated, consistent with the approach for previous variations to the implementation plan."
The ABA listed significant achievements in the quarter to July 2017 as follows:
The start of the redraft of the Code of Banking Practice with the new Code to be finalised by December 2017.
Twenty member banks have appointed customer advocates who are already assisting customers to resolve issues and proactively improving customer outcomes.
Major banks have implemented the industry's conduct background check protocol to stop individuals with a poor conduct record moving around banks undetected. Non-major banks have committed to implement the protocol by 1 October 2017.
Meetings with lenders, mortgage brokers and aggregators to progress potential self-regulatory responses to change remuneration and governance practices in the mortgage industry.