Renewable slavery revealed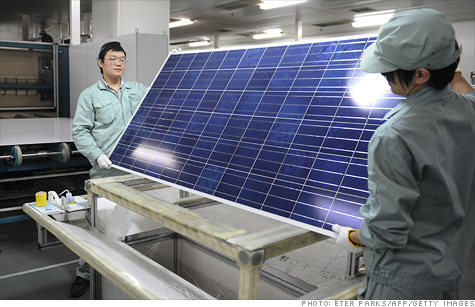 A new report says there is evidence of forced labour and slavery in the production of solar panels and wind turbines.
A report by the Clean Energy Council has called for more local renewable energy production and manufacturing and a "certificate of origin" scheme to counter concerns about slave labour in mining and manufacturing in China, Africa and South America.
Australia may soon generate the vast majority of its electricity from solar, wind, hydro and batteries, but it must play an active role in addressing slavery in renewable energy industries, the report says.
"We're at a moment in time when renewable energy supply chains are going to be scaling up significantly," says Dr Nick Aberle, the Clean Energy Council's energy generation and storage policy director.
"That means now is a critical opportunity to shape the future direction of those supply chains."
Among its examples of forced labour and slavery in supply chains for solar and wind energy and battery storage, the report notes;
About 2.6 million Uyghur and Kazakh people are subject to coercion, "re-education programs" and internment in the Xinjiang region of north-west China, which is also the source of almost half the world's solar-grade polysilicon. The United Nations office of the high commissioner for human rights has found Xinjiang is home to "serious human rights violations", and the US has listed polysilicon from China as a material likely to have been produced by child or forced labour

For batteries there are major issues with the mining of between 15 per cent and 30 per cent of the world's cobalt in the Democratic Republic of the Congo. Amnesty International says that children, some as young as seven, work in artisanal cobalt mines, often for less than $2 a day. They face hazardous mining conditions and often do not have adequate protective equipment for the toxic dust that contributes to hard metal lung disease

There has been rapid growth in demand for balsa wood used in wind turbine blades that has reportedly led to workers in Ecuador's Amazon region being subject to substandard labour conditions, including payment being made with alcohol or drugs. The demand for balsa has also reportedly increased deforestation, and affected the land rights of Indigenous people in Peru
NSW Anti-slavery Commissioner Dr James Cockayne says urgent action is needed to address the severe modern slavery risks in Australian renewable energy supply chains and investments.
"In NSW, government entities and local councils are legally required to take reasonable steps not to procure products of modern slavery," he said.
"This may include some solar panels, lithium-ion batteries, wind turbines and renewable energy.
"This report is an important and welcome acknowledgment by industry of this problem and a first step towards addressing it. But we need to see industry, government, the financial sector and civil society working together to provide access to competitively costed, slavery-free renewable energy.
"If we don't, modern slavery risks significantly complicating the just transition to a decarbonised economy."
More details are accessible here.