First listed on: 05 June 2020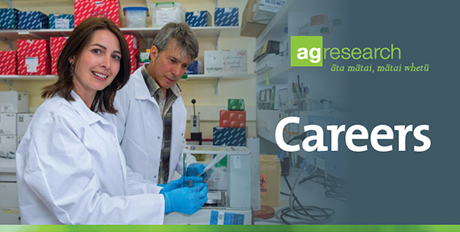 Associate Research Director – Investments
World-leading research organisation
Drive science design and uptake
Transform agriculture through innovation

AgResearch's goal is to drive economic prosperity for New Zealand's agricultural sector while incorporating the fundamental concepts of sustainability, social responsibility and Vision Mátauranga.
Built around our new Science Plan, we are currently reshaping our science structure to support a culture of innovation excellence that is future-focused, energised, vibrant and collaborative.
Five newly created Associate Research Directors (ARD) roles…
Strategy
Investments
Delivery
Capability
Enablers
…will work collectively with the Research Director to lead our science staff in profitable, stakeholder-driven and strategy-led research. They will build a vital, science-driven innovation pipeline to meet current and future sector and societal needs.
Within this leadership cohort, the ARD – Investmentswill be accountable for optimising the science investment capacity of AgResearch. They will provide high level strategic direction setting and oversight of contestable funding opportunities, allocation of our discretionary internal science investment, and development of the <TRL 4 (Technology Readiness Level) innovation pipeline.
More broadly, they will maximise efficiencies in science and innovation investment by integrating best-practice systems, protocols and behaviours into AgResearch's research investment activities, including the effective measurement of science impacts and innovation outcomes to our stakeholders.
We are seeking candidates with a science commercialisation background and extensive experience in similar leadership roles within research-based organisations where innovation and thought leadership is a strategic goal.
Our Benefits
AgResearch provides a diverse range of benefits including flexible working options that help our staff balance their own lifestyle and needs with their work commitments. You can view the full list here: http://www.agresearchcareers.co.nz/working-here/our-benefits/
How to apply
If this sounds like you, apply today on the link below with a covering letter detailing why you feel you would be suitable for this position.
For further information please contact Janet Rowe on 0274280702.
Applications close: 18:00, 21 June 2020.

Closing Date:

21 Jun 2020
Location:

International - New Zealand
Work Type:

Full Time
Category:

Agriculture/Land Management
Division Directors
Science/Technology/Research
Stakeholder Management/Engagement