CSIRO Science Leader: Massive data challenges in the era of the Square Kilometre Array - [Archived Advertisement]
First listed on: 15 May 2019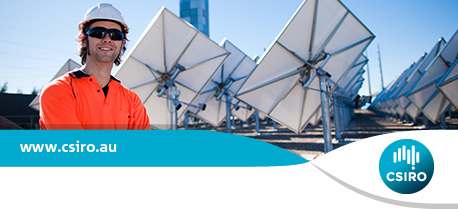 CSIRO Science Leader: Massive data challenges in the era of the Square Kilometre Array
The Opportunity
• Take the lead in developing a new 'Massive Data' capability for CSIRO
• Lead cutting-edge research relating to data sets of unprecedented size
• Represent CSIRO Astronomy and Space Science on key projects relevant to 'big data' science
As a CSIRO Science Leader with CSIRO Astronomy and Space Science (CASS), you will carry out world?class research in astronomy. You will spearhead a new "Massive Data" effort that leverages CASS's world-leading expertise in radio astronomy and CSIRO's involvement in high performance computing and data archiving.
Using enormous time-domain and spectral-domain radio astronomy datasets as a demonstrator, this new capability will have applications across CSIRO where complex datasets of unprecedented size require analysis. CSIRO already has multiple Future Science Platforms (FSPs) involving the analysis of large data sets, but radio astronomy is at the cutting edge of these efforts because of the unprecedented size of the datasets involved and the need for rapid-response algorithms that can handle extremely large data flows. With this new capability, you will help to position CSIRO as a world leader in producing, archiving, accessing and processing extremely large data collections.
CASS is committed to building a safe and welcoming workplace culture, and to implementing initiatives to improve diversity and equity within our workplace. CSIRO offers a range of flexible working arrangements to support these initiatives.
The program is directed towards mid-career researchers who have around 10 to 15 years of post PhD experience, and:
• have established expertise and knowledge aligned to the strategic priority areas;
• bring novel capability into CSIRO; and
• develop cutting edge technology platforms not already in CSIRO.
As part of this key leadership role, you will:
• Carry out world-class research projects in radio astronomy.
• Establish and lead a team of postdocs and students who bring new skills and capabilities to CASS in the areas of astronomy relevant to the SKA.
• Supervise and mentor students.
• Build strategic relationships with colleagues across CSIRO on problems and techniques relevant to 'big data' science.
• Represent CASS externally on projects relevant to 'big data' science, including the future SKA Regional Centre.
• Produce high quality scientific papers suitable for publication in quality journals and for presentation at national and international conferences.
• Work collaboratively with colleagues, clients and partners to develop and progress challenging but realistic research plans for a range of research projects.
Location: Perth, Western Australia or Sydney, New South Wales
Salary: Attractive salary package offered
Tenure: Indefinite with an initial five years specific science leader funding
Reference No.: 61748
A successful science leader will:
• be recognised by their peers as making a significant contribution in their field of science or engineering;
• have a track record of translating scientific outcomes into impact;
• have the ability to work effectively as a leader of a research team, in a manner that encourages new ideas;
• build trust and provide support for the development of emerging skills;
• have a demonstrated ability to actively promote collaboration across an organisation such as CSIRO, and with external organisations, evidenced through strong engagement skills and strategic relationship management; and
• have the ability to mentor a team of talented postdoctoral fellows and postgraduate students and attract distinguished visiting researchers.;
To discuss this pivotal role in more detail, click on the link to the brochure below and make contact now.
About CSIRO
At CSIRO you can be part of helping to solve big, complex problems that make a real difference to our future. We spark off each other, learn from each other, trust each other and collaborate to achieve more than we could individually in a supportive, rewarding, inclusive and truly flexible environment - CSIRO
CSIRO's Commitment to Diversity
We're working hard to recruit diverse people and ensure all our people feel supported to do their best work and empowered to let their ideas flourish. D&I Strategy
Flexible Working Arrangements
We work flexibly at CSIRO, offering a range of options for how, when and where you work. Talk to us about how this role could be flexible for you. Balance
Apply Online
Before applying, please call/email the contact person indicated in the brochure at the link above.
Applications Close
Sunday 7 July, 2019 (11:59pm AEST)

Closing Date:

07 Jul 2019
Location:

NSW
WA
Salary:

Attractive salary package offered
Work Type:

Full Time
Category:

IT & ICT
Public Sector
Science/Technology/Research
Stakeholder Management/Engagement