First listed on: 08 September 2019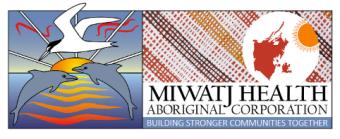 Regional Mental Health Coordinator
We're one of Australia's largest providers of Aboriginal healthcare
We're engaging with health issues at a grass roots community level
We're looking for passionate individuals who are ready to help change the future for Aboriginal healthcare
What we stand for
With eight clinics and growing across East Arnhem Land, we're providing health care services for over 6,000 Indigenous residents. Our Board of Directors represents communities across the region, ensuring every decision we make helps empower Yolngu people to take control of their lives and direct their own futures.
We're connected by passion
We share a passion for the rich history of the Yolngu culture, and a commitment to ensure that the work we're doing is instrumental in ensuring self-determination for Indigenous peoples. We're a people place, where going above and beyond is in our nature. We're not just offering jobs, we're offering a way to shape Australia's future. Do you share our passion?
We need you
Working closely with our Aboriginal workforce is critical to our clients success. You'll be committed to finding the best way to communicate with our clients and our team in order to provide great care in sometimes uncertain circumstances. Core aspects of your role will include:
Developing mental health care plans, clinical pathways, case management, and clear referral pathways and processes
Ensuring mental health and social and cultural workers have access to ongoing support, professional guidance and mentoring.
Providing trauma informed and trauma specific support to peers and community members when required.
Responsible for managing mental health budgets, compliance and reporting related to the mental health grants including data entry for the Primary Mental Health Care Minimum Data Set (PMHC MDS).
Why Miwatj?
Whether working with a remote healthcare provider is in your bucket list, or something that is tried and tested, we'd love for you to reach out. East Arnhem Land offers a once in a lifetime opportunity to be part of a community where the richness of Yolngu culture is in the air you breathe.
A competitive salary of $111,123 - $131,256 per annum (depending on skills and experience) and a comprehensive range of benefits are provided with this full-time position.
How do you know if you're the right fit?
In order to deliver on our mission, we know that a collaborative, supportive team is critical. We're looking for people who are committed to not only growing their capability, but willing to step in and support other team members and clients. Whilst knowledge of Aboriginal and Torres Strait Islander culture is helpful, what will really see you thrive in our communities is an open mind, willingness to be exposed to culture, and curiosity. Before you reach out and apply, we need you to have:
Extensive period (5 years+) of management or senior practitioner experience in mental health in both youth and adult mental health.
Proven ability to develop and lead, highly engaged and high performing teams
Capability to achieve health outcomes while working with remote workers servicing remote indigenous population
Experience in delivering (culturally adapted) Focused Psychological Strategies to Aboriginal and Torres Strait Islander people.
Click here for Job Description, and if you have any further queries, please contact Miwatj Recruitment at: recruitment@miwatj.com.au.
Application close date: 28 September 2019.
We're proud to employ over 110 Yolngu employees, and always looking to increase that number. If you're Aboriginal or Torres Strait Islander and interested in this role, please reach out.
Closing Date:

28 Sep 2019
Location:

NT - Katherine
Salary:

$111,123 - $131,256 + super +bonus + allowances
Work Type:

Full Time
Category:

Health & Medical