Safety concerns at NT mine
Print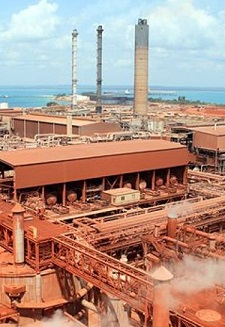 A major union has accused Rio Tinto of "putting production over safety" at a Northern Territory mine.
The Australian Manufacturing Workers' Union (AMWU) and employees say Rio Tinto is "cutting corners" with safety, after production at its Gove Operations in East Arnhem Land ramped up by 35 per cent in just two years.
AMWU NT organiser Lloyd Pumpa says union members have reported a "steady decline" in safety standards at the site.
He said the union's membership has surged from Gove Operations, including supervisory staff signing on.
"That's not very usual … they're also very concerned at the way that senior management has been pressurising them to cut corners, increase production level targets and meet target levels that they think [are] unacceptable," he said.
A Rio Tinto employee at the mine, who has not been named, told reporters that compromises were being made on safety.
"I always worry about safety onsite," he said.
"We've had a bad year.
"There's a pretty strong feeling that they put production over safety. Although they'll certainly tell you that they don't."
NT Worksafe says it has received just three incident reports from the mine during the past two years.
"Rio Tinto has a rigorous process in place to investigate any incidents that occur across its operations and has implemented the critical lessons learnt from this incident," Rio Tinto said.
The company says it takes "any issues raised regarding the health and safety of our personnel seriously".
"Gove Operations has rigorous processes in place to manage health and safety and investigate and learn from any incidents that occur across its operations," it said.
During visits by union reps in recent weeks, Mr Pumpa said Rio Tinto workers reported feeling "overarching … un-confidence in senior management in the way that they are pursuing these goals".
"We understand that people have to pursue targets and make the business profitable … [but] let's just bring it back a little bit and ensure that the safety levels are maintained," he said.
The Gove refinery was the site of fatal accidents in 2014 and 2007.
Rio Tinto is maintaining it silence over the snap departure of an executive from its East Arnhem Land operations last week, which some suspected was related to safety issues.
The resignation of Linda Murry, former general manager of the Northern Territory's Gove Operations, emerged in a two-line statement from the company.
"Rio Tinto confirms that Linda Murry has resigned from her position," it said.
"Troy McNamara will act in the role until a permanent replacement is identified."