Psychic help questioned in BBY case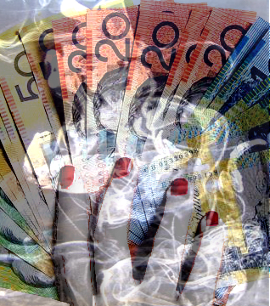 The chairman of failed stockbroker BBY has defended consulting with a psychic as the company collapsed.
Former BBY executive chairman Glenn Rosewall routinely emailed psychic Nevine Rottinger – a self-professed "professional intuitive and energy healer" – for advice on a number of matters.
BBY fell apart in May 2015 with debts of $40 million, including a $23 million shortfall in client accounts.
KPMG liquidators were brought in, and now say they believe BBY may have been insolvent as far back as 2011.
KPMG launched the NSW Supreme Court examinations in order to recover creditor funds and potentially take action against BBY directors.
In one email between Mr Rosewall and the psychic Ms Rottinger, Mr Rosewall warned BBY was "possibly insolvent" and would need to borrow $5 million from its banks and get a windfall of at least $2 million combined with an equity injection of $3 million.
"I was putting this to her hypothetically," Mr Rosewall said of the email.
"This was hypothetical with Nevine… kite flying, saying this is what we may need as opposed to what we do need."
Mr Rosewall emailed Ms Rottinger on many other occasions, including asking for advice on securing a "windfall gain" from a $25 million investment in Firestone Energy.
Emails presented to the court showed Ms Rottinger providing predictions and astrological charts for share prices, including Firestone's.
Mr Rosewall admitted Ms Rottinger's predictions played a part in BBY's information-gathering, which involved her gaining access to commercially-sensitive information like management budget forecasts.
KPMG's barrister, David Pritchard SC, questioned Mr Rosewall at length about the moving of $9.5 million from trader Saxo's client accounts to a BBY operating account to meet ASX obligations.
Mr Pritchard got into a heated exchange over whether Mr Rosewall disclosed Ms Rottinger's involvement to BBY's board.
"I can't clearly recall. She was a consultant to [chief executive Arun Maharaj], and Arun encouraged us to take a meeting," Mr Rosewall said.
"She might have had a view that was right – or wrong – but it was a different perspective."
Mr Pritchard then brought up an email from Mr Rosewall to Mr Maharaj and Ms Rottinger after a big botched trade in August 2014, in which he said the company would be "out of business" in six weeks.
"It was an emotional comment ... I passed it on to Arun and Nevine and said we had to lift our game," Mr Rosewall told the court.
The barrister asked Mr Rosewall if every decision made by BBY could be attributed to Mr Maharaj.
"No ... he was the CEO and the company secretary," Mr Rosewall replied.
In his examination last week, Mr Maharaj said; "At BBY nothing got done without [Glenn Rosewall's] instructions."