Prelude pause ends
Print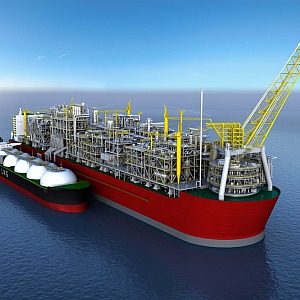 The world's largest floating object is once again producing liquified natural gas (LNG).
Shell's half-kilometre long Prelude gas processing facility had been shut down for almost a year in response to electrical and safety problems, including three incidents that the offshore energy regulator NOPSEMA described as "dangerous occurrences".
The facility is moored 400 kilometres north of Broome in north-west Australia, where it is capable of processing 3.6 million tonnes of LNG each year from undersea gas fields and loading it onto LNG ships for export.
Resource industry analyst Tim Treadgold has previously described Prelude as a "big headache", and now says it will get back to producing overly-expensive products.
"As for making money from this project, that's extremely unlikely because the cost overruns and completion delays are in the horrendous category," Mr Treadgold said.
"They say it's a multi-decade project and it looks like they're going to take many decades to prove it."
Shell has never stated the cost of building the giant Prelude complex, but it is estimated to be between $12 billion and $17 billion.
"Prelude starts from behind the eight ball, it's very expensive LNG," Mr Treadgold says.
"It shouldn't be expensive, it should be competitive, but that's if the project had been built to budget and delivered on time. It might now be a different kettle of fish, but it's not, it didn't work."
Analysts say the people behind the facility will be banking on natural gas consumption rising over the long term and being a part of a lower-carbon future.