PM faces colour-coded questions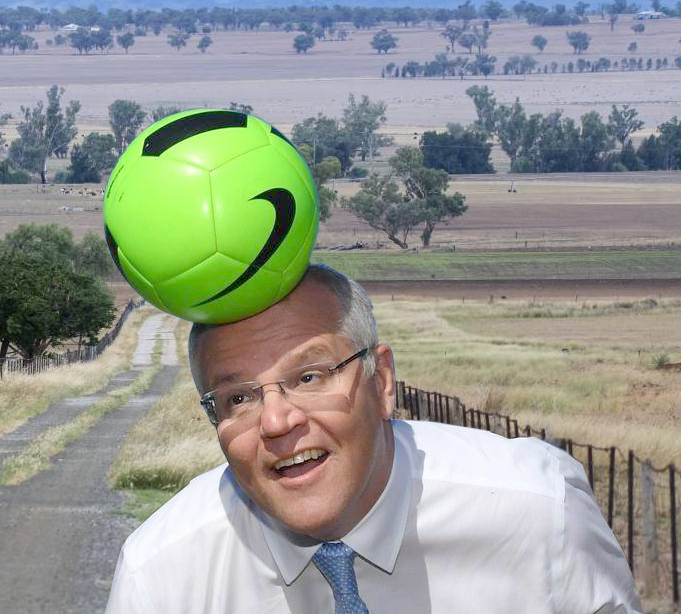 The Prime Minister has dodged questions about the ongoing 'sports rorts' scandal, as new details deepen the dodginess.
Prime Minister Scott Morrison addressed the National Press Club on Wednesday, making a largely unremarkable speech about his government that mentioned economics, disaster management, environmental agreements and other matters.
When it came to question time, journalists almost exclusively wanted to hear about the Coalition's 'sports rorts'.
The Government has been under fire since it was revealed that it ignored expert advice and made its own, politically-based decisions about where to spend a $100 million sports grants fund.
Nationals deputy leader Bridget McKenzie was in charge of administering the Community Sports Infrastructure program, and sent most of the grants to marginal seats being targeted by the government last year.
Even more damning aspects of the case came to light this week after ABC obtained spreadsheets that Senator McKenzie's office used to determine which clubs would receive grants.
She had the proposals colour-coded by which political party held the seat they were located in.
The documents show 94 of 223 projects deemed "successful" in the fund's first round would have fallen short of Sport Australia's standards.
Additionally, some projects deemed most worthy of funding by Sports Australia missed out.
Sport Australia ranked projects out of 100 based on three criteria: community participation (50 per cent), community need (25 per cent) and project design and delivery (25 per cent).
The group set a cut-off for funding at 74 out of 100.
One of the biggest grants went to Pakenham Football Club in the marginal seat of La Trobe in Victoria, receiving $500,000 to build changing rooms, despite the plan receiving a score of 50 out of 100.
Meanwhile, Gippsland Ranges Roller Derby's application for $44,909 scored a 98 of 100, but was not funded.
Sport Australia wrote to Senator McKenzie a month before the 2019 federal election was called, saying that it had been compromised by political interference.
When asked about it at the National Press Club, the Prime Minister said he could see almost nothing wrong with the $100 million scandal.
Mr Morrison gallantly avoided five strong questions on the matter. He did, however, manage to introduce a new phrase to help dodge accountability, labelling the questions as "editorials".
When asked about using public funds for political interests, the PM responded; "I just reject the premise of your question … you can have an editorial on it".
When asked by the ABC's Andrew Probyn about potential future slush funds, Mr Morrison replied: "Well Andrew, I'll put your editorial to one side and your commentary on it, that's your view".
His next round of deflection and obfuscation should come when Liberal political staffer and head of the PM's department, Philip Gaetjens, releases the details of his inquiry.
Because the Government does not see (or does not want to reveal) the seriousness of the matter, Mr Gaetjens' review is limited to the question of whether ministerial rules were broken, and the appropriateness of a $36,000 grant Senator McKenzie awarded to a Victorian shooting club to which she belonged.