Oration urges deep links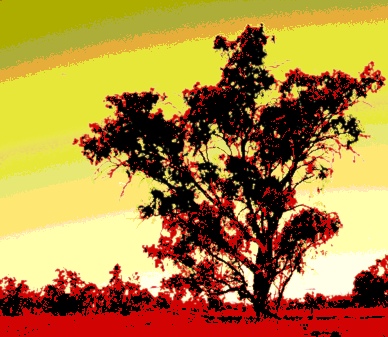 Experts say it is more important than ever to learn from ancient Australian cultures.
Australia needs to trust Aboriginal people and their knowledge of country and bushfires as they can help solve the environmental crisis that has seen the fastest rate of biodiversity loss on Earth, said Associate Professor Michael-Shawn Fletcher this week in the University of Melbourne's key annual address, the Narrm Oration.
Associate Professor Fletcher said having lived through 68,000 years of massive climate and environmental changes "through an ice age, out of an ice age" up until the present day, Australia's first inhabitants have accumulated knowledge through nearly 3,000 generations of people.
"This is all knowledge that has been gathered scientifically. Indigenous knowledge is science - gained by observation, executing a plan, observation, refining your plan, executing a plan, observation. This is science," he said.
A Wiradjuri man and a geographer interested in the long-term interactions between humans and climate disturbance, with a particular emphasis on how Indigenous burning has shaped the Australian landscape, Associate Professor Fletcher said the recent Royal Commission into bushfires was short-sighted in its failure to recognise the concept of cultural burning.
"Fire is integral to the Australian landscape," he said in his oration.
"You need to engage with us, to help you through this, to help all of us through this. To help heal the country and heal the people, heal the scars that large parts, if not all of Australia, have experienced following the repeated catastrophic bushfires that tear through this country and rip people's lives apart and destroy biodiversity. Get us on board, we're there and the knowledge is there."
Associate Professor Fletcher also challenged the European idea of wilderness, saying; "There is no wilderness in Australia" and that places like the Tasmanian Wilderness Heritage Area were created intentionally with fire by Aboriginal people to make landscapes resource-rich.
He said despite this and the profound body of traditional knowledge systems that had been passed down from Aboriginal people to Aboriginal people since the Ice Age, Indigenous science was often challenged, even inadvertently, by influencers.
Even Sir David Attenborough - who has helped illuminate the wonders of the world - has failed to recognise the vast majority of cultures who have been successfully managing and maintaining highly biodiverse country and sustainable ways of living for thousands of years, A/Prof Fletcher said.
He said Australia was experiencing the fastest rate of biodiversity loss on Earth, which began at the British invasion, because people were no longer managing country as Aboriginal people had been prior to the arrival of the British. In places like Tasmania, Aboriginal people were systematically massacred and removed from country.
"This resulted in a massive disruption to our management of country," A/Prof Fletcher said.
"Shrubs and trees have increased across the landscape and have given us the conditions under which fuel loads are high. So that when climate shifts, when droughts occur, when we have high fire weather or extreme fire weather, the fires are getting larger and larger. And hotter and hotter.
"The first recorded bushfires in Australia occurred in 1850, a couple of decades after the most severe massacres occurred."
Associate Professor Fletcher called on Australia to 'reawaken sleeping knowledge' and recognise that the evolutionary trajectory of humans is linked to fire and that it is still is the main tool for landscape management.
"We need to engage and listen to Aboriginal people and understand the reticence to talk about the valuable knowledge that has been passed on to them," he said.
"Sit down, talk, engage. Allow us on country."