Leaks speak of huge lag on NBN
Print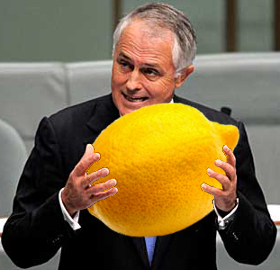 The National Broadband Network (NBN) is not going to meet its rollout targets, according to a leaked report.
Fairfax media outlets say leaked documents show the NBN project has fallen well behind its construction timetable.
A company called 'nbn' formerly 'NBN Co', is tasked with building the NBN, and has rejected the claims that it is running late.
The company says it will meet or exceed its full year target to get 2.6 million homes ready to receive a connection, while actually connecting close to one million homes on the network.
According to Fairfax reports on the leaked document, nbn is in fact two-thirds short of it timetable, and there has been a significant blowout in connection costs to premises.
Fairfax says the internal report shows nbn struggling to get construction approvals to connect premises.
They claim just 662,665 premises had been approved as of February 19, compared to nbn's target of 1,402,909 premises.
Reports say nbn has achieved just 29,005 construction completions on the fibre-to-the-node (FTTN) front, less than a third of its internal target of 94,273.
NBN Co has publicly stated it is working to remedy issues it admits are complicating the rollout.
"We will not be drawn on alleged internal documents, we report quarterly and our results are audited," an nbn spokesperson said.
"The company's management has proven repeatedly that it can effectively monitor risks and manage those risks," the spokesperson said.
Shadow minister for communication Jason Clare has issued a statement claiming; "These problems are entirely of Malcolm Turnbull's making."
"This is yet another example of Malcolm Turnbull's poor judgement," Mr Clare said.
"In 2014, Malcolm Turnbull directed NBN Co to switch to his second rate NBN on the basis of a dodgy report prepared by his yachting mate. His chickens are now coming home to roost.
"Malcolm Turnbull's second rate NBN is a complete failure. He is all talk and no delivery."
Communications Minister Mitch Fifield has issued a statement too, saying NBN Co is on track to meet its targets.
"After two terms of Government, Labor had upgraded broadband to just 1 in 50 premises in Australia. By the end of this year, the NBN will have upgraded 1 in 4 premises and by the end of 2018 it will have extended to 3 in 4 premises," he said.