Encryption talks skip local firms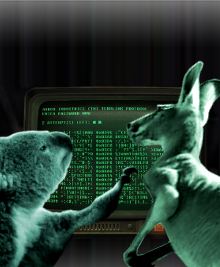 The Home Affairs department does not appear to have consulted with local tech companies about encryption laws.
Government officials met with US technology giants Apple, Facebook and Microsoft about the proposed legislation in 2017 and 2018, but the ABC says no brands from Australia's IT sector have appeared among dozens of pages released to it under Freedom of Information.
It adds weight to industry complaints that the laws were not checked for their impact on local industry.
The laws allow government authorities to compel a company to give it access to encrypted communications, creating new technical methods and 'backdoors' if needed.
During inquiries into the legislation in November 2018, Francis Galbally from the Australian encryption provider Senetas, said; "The bill, should it become law, will profoundly undermine the reputations of Australian software developers and hardware manufacturers in international markets".
Ron Gauci, from the Australian Information Industry Association, says it is "disappointing" that his and similar organisations have not been consulted.
"Had we been involved in the process in the first place ... hopefully we would have avoided some of the matters that still remain as issues for us," he said.
"Our major issue has always been the impact this legislation may have on those Australian organisations, particularly the smaller ones, and their competitiveness on a global scale."
Some of the groups that were actually consulted on the draft legislation did not speak highly of the process.
John Stanton, Communications Alliance CEO, said he was told not to worry about the legislation, as it "would not create any backdoors", but little else.
"We would have preferred very much to sit down and engage with government on the detail," he added.
Sunita Bose, managing director of a group representing Twitter, Google, Facebook and Microsoft, said the consultation was perceived as speedy.
"We did raise concerns at the time that the Bill appeared to be fast-tracked through Parliament, ignoring the voices of a wide range of organisations who directly raised concerns," she said.
The proposed laws are now before the Parliamentary Joint Committee on Intelligence and, which is due to report in April 2020.