Disney dreams of 3D-printed sheep
Print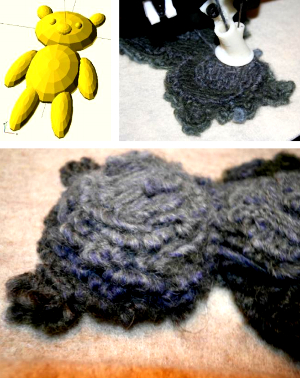 Disney's research arm has helped build a 3D-printer specifically for soft and cuddly creations.
The new extruder can print wool and wool blend yarns into fabric objects.
Falling halfway between a 3D-printer and sewing machine, the futuristic friend-maker produces objects made of a specialised form of loose felt.
"I really see this material being used for things that are held close," said Scott Hudson, a researcher and professor who helped design the felting machine.
"We're really extending the set of materials available for 3D printing and opening up new possibilities for what can be manufactured."
Possiblities run from the mundane to post-modern – including apparel such as scarves and hats, Teddy Bears, cushions, furniture coverings and safety devices.
Disney researchers say it may be used to produce parts for "soft robots" – robots designed to touch or interact with people.
The operation of the machine is similar to Fused Deposition Modelling, or FDM, wherein subsequent layers are added to achieve the object's desired shape.
Normally the melted plastic joins each layer, but in the felting printer a barbed needle is attached to repeatedly pierce the yarn, dragging down individual fibres of the yarn into the layers below, entangling them and bonding the layers together.
If the soft objects are to be attached to a hard object, a layer of nylon mesh fabric must be incorporated during the printing process. This provides reinforcement to prevent the material from ripping away at the attachment point.
The team say it is now working on plans for a printer that could produce both fabric and plastic elements at the same time.
"A number of researchers are looking at mixed materials in 3D printing," Hudson said.
"That's one of the most interesting challenges now."
Disney has created the following film to demonstrate its device.