China slams nuclear nod
Print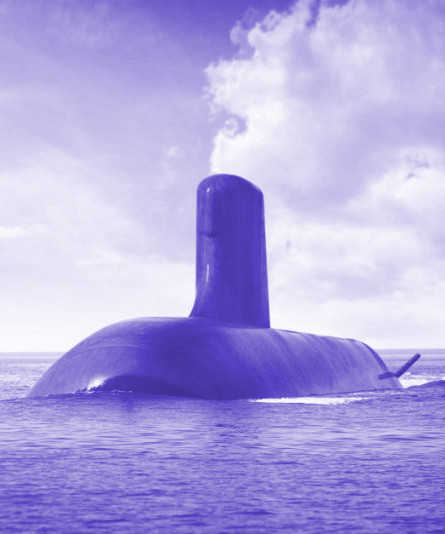 The UN nuclear watchdog says it is satisfied with the AUKUS alliance's plan to supply Australia with nuclear submarines.
Until the AUKUS deal for nuclear subs, no party to the nuclear Non-Proliferation Treaty, including Australia, has had any nuclear-powered submarines, other than the five permanent (P5) members of the UN Security Council, also known as nuclear-weapon states: the United States, Russia, China, France and Britain.
Nuclear submarines, which can remain at sea far longer than other submarines, pose a proliferation challenge because they operate beyond the reach of IAEA inspectors.
Special arrangements must therefore be made with the IAEA for their often very highly enriched fuel to leave dry land.
"The Agency, on the basis of technical consultations and exchanges it has conducted with the AUKUS parties to date, is satisfied with the level of their engagement," the International Atomic Energy Agency (IAEA) said in a confidential recent report to member states.
"Such technical consultations will continue for the foreseeable future. The Agency recognises that AUKUS is at an early stage and that precisely how it will develop has yet to be decided by the parties involved."
Australia says its submarines' nuclear reactors would essentially be a sealed box handed over to it, limiting the proliferation risk.
Australia reportedly told the IAEA: "Australia would be provided with complete, welded power units. These power units are designed so that removal of any nuclear material would be extremely difficult and would render the power unit, and the submarine, inoperable".
Those materials would be in a form that cannot be used in nuclear weapons without chemical processing "requiring facilities that Australia does not have and will not seek", it added.
But China's permanent mission to the United Nations in Vienna says the IAEA report selectively cited the AUKUS countries' self-justifying statements while leaving out the international community's major concerns.
China also claims the report ignored many countries' solemn positions that AUKUS violates the objective of the Treaty on the Non-Proliferation of Nuclear Weapons (NPT), Xinhua News Agency reported on Wednesday.
"The IAEA chief cannot be reduced to a political tool of the AUKUS countries and be used to make misleading conclusions," said Wang Qun, China's Permanent Representative to the United Nations in Vienna.
China's Foreign Ministry spokesperson Mao Ning has slammed the report too, saying China is "gravely concerned about the substance".
"This report lopsidedly cited the account given by the US, the UK and Australia to explain away what they have done, but made no mention of the international community's major concerns over the risk of nuclear proliferation that may arise from the AUKUS nuclear submarine cooperation," she said.
"The report turns a blind eye to many countries' solemn position that the AUKUS cooperation violates the purpose and object of the NPT."