Abbott's carbon claims denied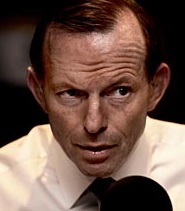 Experts have attacked Tony Abbott's latest comments on carbon credits.
The Federal Government released a review of its climate policies late last year, including its intention to allow international permits to be used to help Australia meet its international emissions reductions commitments.
Being involved in international carbon credit schemes would allow Australian energy companies to buy credits for abatement projects, and help them meet future restrictions on emissions.
But former primer minister Tony Abbott says making overseas carbon credits being available to Australian businesses is a form of "carbon trading, which is a carbon tax under a different name".
"That just means that Aussie consumers end up shovell­ing our money to foreign carbon traders and we all know the ­potential for rorts there," he told the Australian.
But Australian Industry Group chief Innes Willox says industry wants to use international credits "as a cost effective means of achieving our obligations".
"The sensible approach is to meet our obligations in the least costly ways possible," Mr Willox said.
"And in some cases it will be less expensive to meet these obligations by reducing emissions [or sequestering carbon dioxide] in other countries.
"It makes absolutely no sense to rule out this option by insisting that our commitments can only be fulfilled within our borders.
"This can only increase the costs of meeting our international obligations."
He said that for Australia to meet it's commitment in the Paris climate agreement, there would "inevitably" be costs.
The Business Council of Australia says it supports the use of "credible international permits as a practical measure to reduce emissions".
The business lobby believes that using international permits is a practical measure to "help provide the flexibility and capacity for Australian businesses to participate in what is fundamentally a global issue".
Energy and environment minister Josh Frydenberg hit back at Mr Abbott's comments, pointing out that international credits have been an option since the Abbott government signed up to the 2015 Paris climate agreement.
"It is worth noting that Mr ­Abbott's position on international permits is closer to the Greens than that of Australia's big employers," he told the Australian.